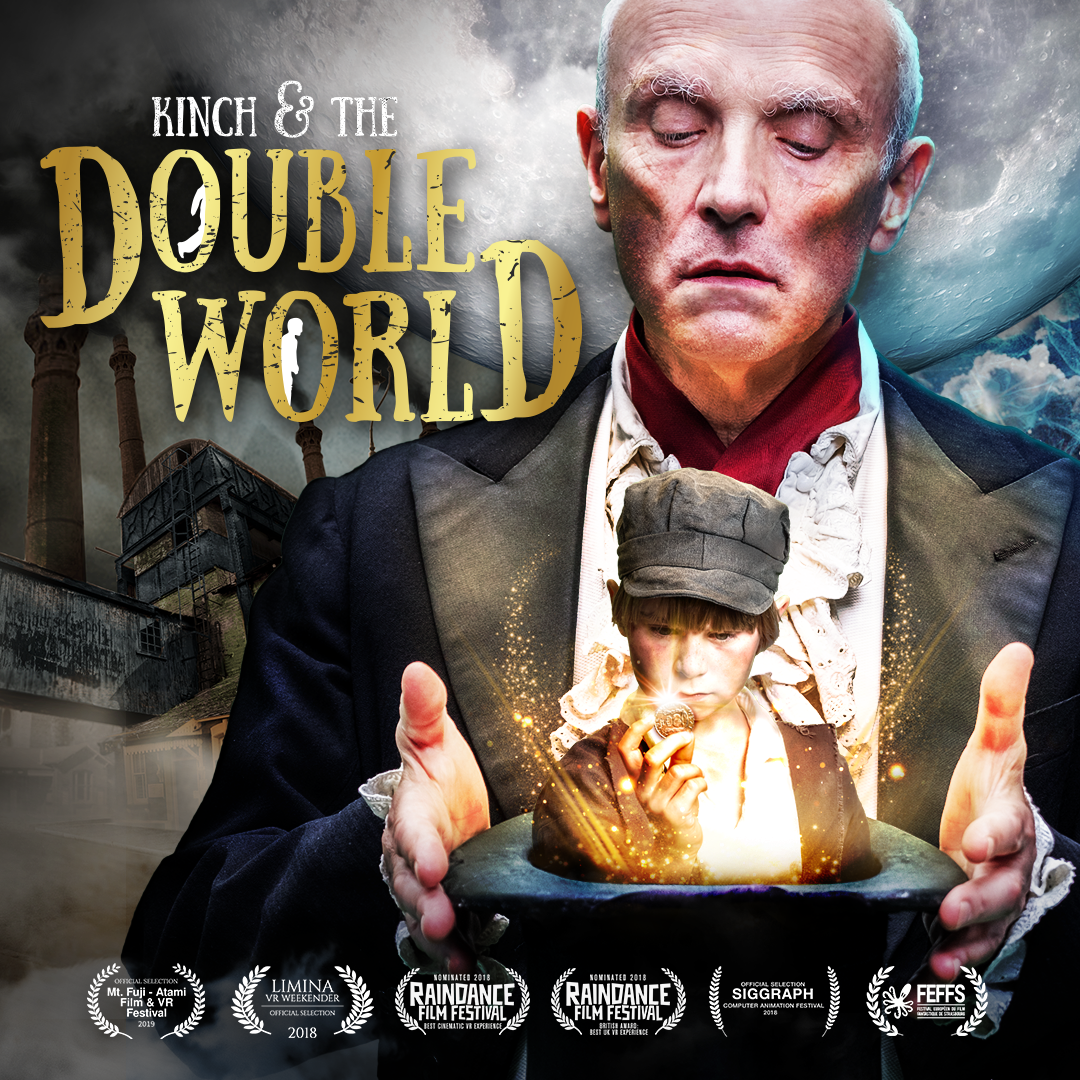 Cinematic virtual reality experience, Kinch & the Double World, has been released on the VIVEPORT store for PC and will be available on VIVE Focus headsets on the 3rd of July. Produced by UK based production company Figment, the magical fantasy adventure has been shown and highly praised at VR conferences and film festivals worldwide and is now available to experience for the first time via HTC's VIVEPORT App Store and on the world's first unlimited VR subscription service VIVEPORT Infinity.    
[London, June 26th 2019] Kinch & the Double World brings the fantasy adventure genre to virtual reality. Set in Victorian London, it tells the story of Kinch, an orphan who gets caught up in a stage magician's trick and is transported to another world, where magic is real.
Figment's aim was to produce an original VR experience that is both cinematic and narrative led. Co-Director and Editor Colin Arnold "We wanted to explore what was possible in the world of VR storytelling while simultaneously reaching an audience that adores fairy tales and fantasy films. Filmed in original Victorian locations in and around London the experience maintains an authentic photorealistic look throughout, as well as being sprinkled with a little bit of magic."
Kinch was the product of an 18 month Innovate UK funded research project known as ALIVE which explored cinematic VR storytelling. Working closely with Foundry and the Centre for Vision, Speech and Signal Processing (CVSSP) at the University of Surrey they developed production techniques and technologies for the creation of immersive VR experiences.
Simon Reveley, CEO of Figment "Our role in the ALIVE project was to take our years of media production experience and to apply the new technologies to a real-life production scenario: our very own cinematic VR short film. The final experience incorporates 360 video, CGI, VFX, pre-rendered and real-time animations, LIDAR scanned environments as well as live action and motion captured characters."
The digital media production specialist, Figment, has worked with VR and 360 Video for over a decade. In that time, Figment has delivered VR experiences to over 4 million people via its installations around the world including Galactica at Alton Towers, Derren Brown's Ghost Train at Thorpe Park, Kraken Unleashed at SeaWorld Orlando and The Great LEGO Race at LEGOLAND parks around the world.
Kinch & the Double World is Figment's first foray into cinematic VR but the team is also focused on location-based VR. It is developing multi-user walk-through adventures using its own hyper-reality platform, blending cinematic VR with free-roam VR and featuring tactile props and sets, physical 4D effects and a realistic avatar system. Further information about this work, codenamed 'Project Helix' can be found at www.figmentproductions.co.uk
Kinch received its world premiere at the 26th Raindance Film Festival in London last year (2018) and went on to be shown at numerous film festival and conferences worldwide including the prestigious SIGGRAPH 2018 in Vancouver.
Crossing multiple genres and utilising a wealth of old and new filmmaking techniques, Kinch & the Double World has been described by one viewer as "The future of entertainment. It's like being inside a Harry Potter movie, in close-up, and it really works."  
Notable Film Festivals and Award Nominations:
Raindance Film Festival 2018 – Best Cinematic VR Experience – Nominated
Raindance Film Festival 2018 – British Award: Best UK VR Experience – Nominated
Limina VR Weekender 2018 – Official Selection – Nominated
FEFFS 2018 – The Strasbourg European Fantastic Film Festival – Official Selection
Siggraph Computer Animation Festival 2018 – Official Selection
Mt Fuji – Atami Film & VR Festival 2019 – Official Selection – Nominated
Kinch & the Double World is available now to download via the VIVEPORT store as well as the unlimited subscription service VIVEPORT Infinity. Visit https://www.viveport.com/ for more information.
END
Press Release Images & Logos:
https://www.dropbox.com/sh/0tlnpphtxij7sfv/AACGx1oe16o8iseSKh6UkuOda?dl=0
Video Links to embed:
Kinch & the Double World Trailer:  https://vimeo.com/337238544/b21b59cb9f
Kinch & the Double World EPK Promo: https://vimeo.com/341598046/5dfdef71b0
Project ALIVE 12-minute documentary: https://vimeo.com/260072757/aa2657f20e
For further information or interview requests please contact Simon Reveley or Rhiannon Simmonds, Figment Productions Ltd
Phone: +44 (0)1483 829591
Mob: +44 (0)7775 851083
Email: rhiannon@figmentproductions.co.uk
Website: www.figmentproductions.co.uk
Social Media (Twitter/Facebook/Instagram) @figmentprods